Leather Jacket: China | Necklaces: Ruckus, Forever 21 | Bag: Nina Ricci | Striped Tube Top: Forever 21 | Pants: 7 for All Mankind | Pumps: Mango
Most of my friends know for a fact that I don't like wearing pants. I've said candidly–and by this, I mean, jokingly–that wearing pants are fodder for crotch rape and the misogynist restrictive agenda. So I avoid occasions where I have to wear pants–I avoid it like I would the Bubonic plague (had said epidemic still existed) actually.
But let me clarify, it's not to say that I don't like pants. I actually do like pants, I like them a lot, in fact, if you've noticed, I've been re-introducing pants into my wardrobe as of late. Confession: I just tell people I don't like pants because I'm extremely bitter.As I've mentioned before, I'm allergic to a slew of laundry detergents and wearing pants would render a nasty case of contact dermatitis on my lower limbs plus, I've child bearing hips so skinny jeans and cigarette cuts don't really look flattering on my 100 lbs plus frame.
So yes, I used to wear pants–most notably during my post high school and pre-college phase, back when I was bordering 90 lbs only and back when my propensity to allergies weren't as extreme. In fact, I owned an awful lot of pants! I was very picky with the brands and I would only buy from the denim "trinity"–they were: Diesel,  7 for All Mankind, and Tsubi (now Ksubi). I was in my SoCal phase and wore my pants with booties and men's white v-neck tees.
So when the PR agency for 7 for All Mankind contacted me to blog for them, I said yes immediately (nevermind the compensation–which is usually my default mindset) and was beyond stoked. Actually, this was my second gig for 7–I did an editorial layout for them last year in Status magazine (behind the scenes: Apple Bottom What?).
Now see, I've a long-standing love-affair with 7FAM. Even if I don't wear as much pants anymore (and all the more, lesser denim), I still do visit their store and I do buy a few pieces (mostly tops though). I like how they're adaptable to trends? Unlike Diesel and Ksubi where their showcase is limited to denim washes, 7 actually has snakeskin printed pants and rainbow-coloured jeans!
So onwards to why I wear loose pants: I normally don't, I've been preaching that "fit is king" in terms of fashion and I think wearing clothes that don't fit is tantamount to a faux pas but when I got this pair, they fit me perfectly–a size 26 pair in this season's color: red.
Fast forward to three weeks later, when I was going to take them out for the first time for my initial meeting with my boyfriend's eldest sister, who recently arrived from the states (and who I miss dearly)–they were suddenly a tad bit too loose. Okay, a tad bit is much of an understatement but I guess a size 25 would have been better. So this is how I know A!Life is working, okay? This was my gauge. To read more about the supplement, check my old post here (and if you want to be the next virtual blog ambassador for A!Life, join this contest).
But as it is, the pair is quite comfortable and gorgeous so I decided, to hell with the fit, I can always fix that with my seamstress. I wanted to be edgy and fierce that day so I was going to push for my look, wearing my favorite jeans, with my tough-girl leather jacket!
Coincidentally, when I arrived at Mamou's, my boyfriend's older sister was wearing a leather-jacket and red-jeans combo!
 Here are some more outfit photos: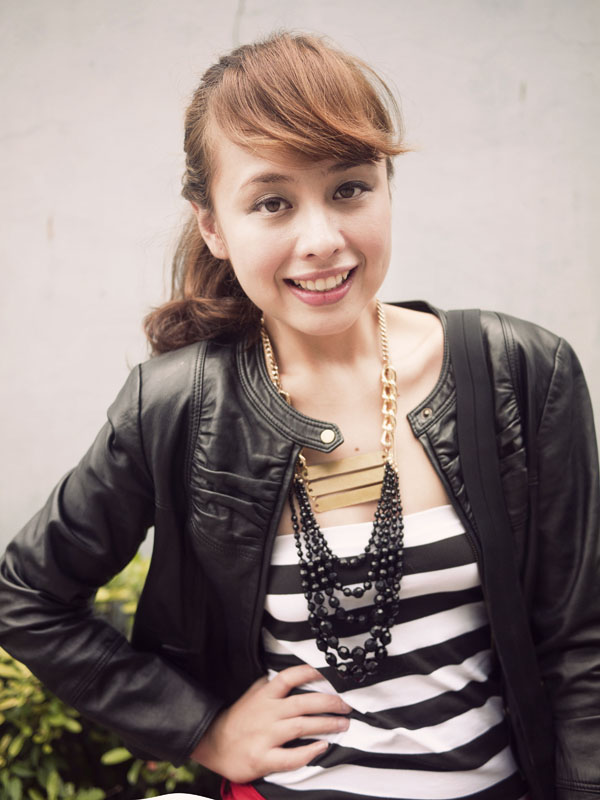 Featuring our newest puppy: Magnum! He's a little bit feisty and rowdy so it was hard to get him to look at the camera. Maybe in a couple of months, I'll be having a tiny little pug–who knows?
Anyway, here's the 7 For All Mankind Fall/Winter 2012 Lookbook!
VISIT ANY 7 FOR ALL MANKIND BRANCH: GREENBELT 5 AYALA CENTER
Makati City Philippines 1228
Makati City, 63-2-757-3
Philippines7 FOR ALL MANKIND – ROCKWELL
Ground floor (R1 Level) Stall no. R1- 102, Power P
Rockwell Center Rockwell, 632-895-31
Philippines7 FOR ALL MANKIND – TRINOMA MALL
Space 3307B, 3/F, Trinoma Mall,
North Edsa, Quezon City, 63-2-901-0
Philippines
To know more about 7FAM and for Updates about their events, giveaways, and new collections..
Follow them on twitter: @7FAMphilippines
Like them on Facebook: 
7 For All Mankind Philippines