Neon Necklaces: H&M and Gold Couture | White Chiffon Top: Zara | Wooden Bangle with Orange Details: Promod | Pouch: Prada | High-waist Denim Shorts, White Sequin Bandeau: Topshop | Wine Belt: D&G | Neon Pink Wedges: Aldo (via Gifts Ahoy)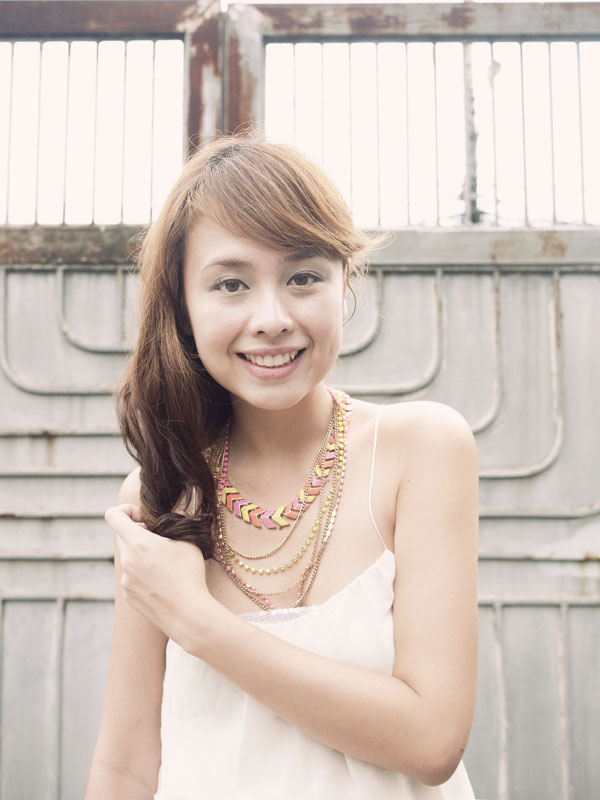 Because of the numerous holidays, I've been relegated to comfortable casual wear mostly. As I've mentioned in my previous post, although my goal is to always exude and project the "chic and polished" look, it doesn't necessarily mean that I'm out to dismiss trends and civilian garb altogether.
Believe it or not, I don't always go out dressed to the nines. It really depends on where I am and what I'm doing (or supposed to be doing) at the moment. Take this outfit for example, this is what I wore on the 18th of August whilst styling for the Rockwell Bazaar outfit prize.
Personally, I think there's nothing special about it–no big, attention-grabbing statement piece and the like, just a plain simple and functional outfit to the core. Perfect for the task I had that day, considering I had to scout around the entirety of the bazaar at Rockwell tent for fashionable pieces to complete my winner's ensemble.
I guess the point of this post is to show you that style doesn't necessarily have to be maximalist and fancy all the time. Just because some people are more inclined towards uncomplicated outfits doesn't mean they're any less fashionable. That's the misconception people have: fashionable does not equate to simple (and vice versa).
This is why I don't scoff at other people's outfits (or rather, I try not to). I don't judge whether they're fashionable or not because I respect the fact that each individual has their own unique sense of style and aesthetics. One that is fashioned out of their own personalities, their own dreams, their own inspirations, and their own history.
The only thing I don't approve of however is "cohesive dressing" , and by this I mean: dressing up like every other individual, looking like a clone out of John Carpenter's: Village of the Damned. Yes, it's a given that the society is dictated by trends and such, and by all means, everyone should indulge, but would it kill for people to spice up a typical outfit combo by adding an accessory or two?
Sure, a tank top worn with a pair of denim shorts is pretty much a Filipino staple but there are a lot of ways to infuse one's style in a seemingly ordinary outfit. Adding a little bit of something, like an accessory or an accent that's reminiscent of one's personality will make a big difference! Or perhaps changing the permutation of the outfit, like for example, pairing sky high heels with your typical denim shorts or instead of wearing cotton tank tops, you opt for willowy chiffon or silk fabrics. Anything that can add a spin to the "usual."Food for the thought?
These shoes are so eye-catching! It's a classic wedge pumps with a dash of fluorescent color.
This is the H&M necklace I wore during the
Supersale Bazaar
. Coincidentally, while going around and shopping on the same day, I found a somewhat similar enamel necklace with the same color scheme (which my boyfriend bought on the spot while I was still examining the merchandise–I am spoiled rotten).
I have the world's worst posture, ever.
This is me sans makeup–not a touch of color on the cheeks and not even the slightest hint of lipgloss. When I'm too lazy to put on anything, I go bare-skinned. I try to avoid showing people myself without my face on though, I don't want to give people the impression that I'm haggard and unkempt.