Denim Vest: Greenhills Bazaar | Silver Cuff: Ruckus Accessories | Silver Necklace and Aztec Print Top: Forever 21 | Orange Bandage Skirt: H&M | Silver Flats: Tory Burch | Motorcycle Bag: Balenciaga | Ring: Gold Dot
So I know I said in my past posts that I've been rearing towards a more sophisticated, elegant, and classy sense of fashion (here and here), but believe it or not, there are actually days where I just want to dress down in comfortable flats and indulge myself with casual denim.
I'm not really a big fan of denim, mind you, but I make exceptions once in a while.
Thankfully, I'm still at an age where it's always praised upon to dress exquisitely, but at the same time, still appropriate and welcome to dress playful and young. I think it's ultimately, all a matter of finding the right occasion.
Yesterday for example, called for a more youthful ensemble. It was a Sunday before a holiday and I figured I didn't want to prance around the mall in platform heels. So my boyfriend and I had a weird idea to go out together dressed in hipster garb, just for shits and giggles. Taking inspiration from him (he owns a hundred aztec-print sandos by the way), I paired up an aztec-print top with my favorite (and overused) denim vest.
This goofy hipster heart goes out to my boyfriend.
Also, please forgive the wayward, unkempt hair! It was windy outside when I decided to have my photo taken. It's a good thing the weather's been cooperative lately though.
Don't fret, I'm not going to come up with a long post riddled with life lessons and nuggets of wisdom. We've had enough of that in the past few posts, right? Instead, I'm going to indulge a curious reader who sent an email inquiring about the type of music I listen to (and if I actually like music apart from the ones playing on the radio).
It might not look it but I'm a huge music fan. Okay, so maybe not the type to pore over Taylor Swift and Chris Brown (and I do like my occasional pop and R&B), but well, let's just say that I've a hundred gigs worth of memory filled to the brink with various music albums dating back from the Woodstock sixties to the present, plus, I've a Joshua Tree album by U2, autographed by lead vocalist Bono, himself.
Forgive me for being obnoxious about music but I just want to clarify misconceptions. I mean, I don't discriminate, okay? Music to me, is just like fashion, you have to appreciate and accept the fact that each artist rolls with their own unique style and variation–so yes, as a matter of fact, I do LOVE Britney Spears just as much as I love AC/DC.
Here are more tidbits about me in regards to my taste in music: 
Given a chance, I would head out to Coachella or Glastonbury for their annual music festivals.
Unfortunately, I'm not a big fan of the local music scene but I do think that there's great potential and output.
My favorite song since I was 12, is Iris by Goo Goo dolls–I think it shall be the tune to my wedding march (a close second would be: Bittersweet Symphony by the Verve).
I can play the drums (and I tried learning how to play the guitar too but I'm an ultimate failure at it).
My favorite band of all time is U2, and my favorite song from them is Electrical Storm.
My other favorite band would be Third Eye Blind, and although I really love their Semi-charmed Life, my favorite from the band would be a tie between Wounded and Blinded.
My favorite male artist is Freddie Mercury of Queen.
The song of my whole college life is Baba O' Riley (Teenage Wasteland) by The Who.
The first CD my dad bought me is that of the Spice Girls, when I was 6. I was a big fan of Mel C, the sporty spice (so much so that I actually did buy her solo album).
Best lyrics thus far is Queen's Don't Stop Me Now.
Consequently, the first casette tape I listened to is that of Hall & Oats, because my dad is such a huge fan.
My favorite female artist would have to be Marina from Marina & the Diamonds.
Right now, I'm more into Electronica and Indie.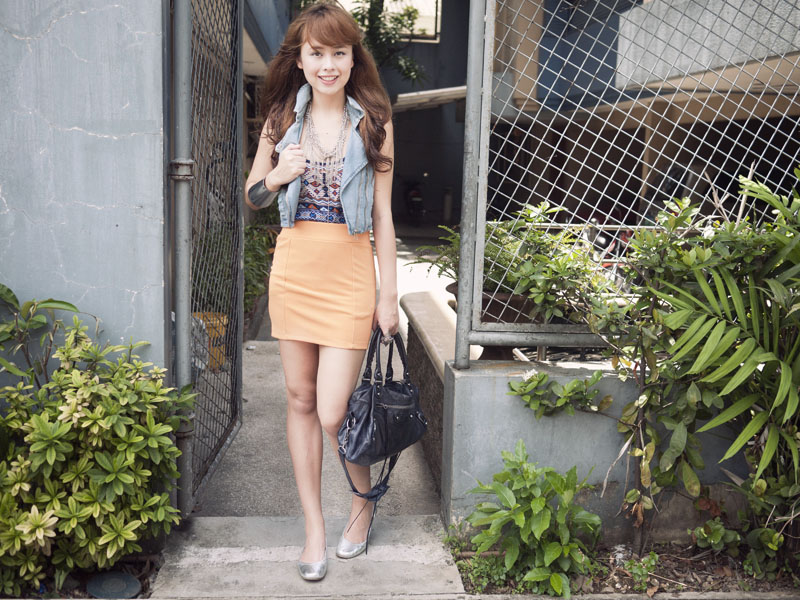 Here's a copy of my "driving" playlist, for when I'm alone and headed out to a far-flung area (ie: Makati), I listen and belt out tunes: 
So that's enough music trivia for the day, I hope you enjoy my playlist (click on the links to direct you straight to youtube).
On the upside, if I were to attend a music fest, I would definitely wear this outfit. For further appreciation, here are a few more photos from my rather Hipster Sundate: