Dress: Olivia and Fifth | Clutch and Ring: YSL | Earrings and Bangle: Forever 21 | Peep-Toe Heels: Zara |Bracelet: Hermes | Belt: Mango
Last Saturday, I accompanied my boyfriend and his entire family to watch Cirque du Soleil, and this was the outfit I decided to put together. I'd like to think that it's a no-nonsense outfit, very simple in principle, but attention-grabbing nonetheless. I saw this beautiful silk green dress from Olivia and Fifth during the Supersale Bazaar early last month and without so much as a blink, I turned to my friend, owner: Gem Co, and said I needed to buy such elegant masterpiece, no questions asked (save for maybe a discount, if she would be kind enough), and I shall cherish it for a long, long time, and give it maybe to my children, or my children's children.
This dress is clearly a good investment–not necessarily inexpensive but is bang for buck (and it comes in a different color too).
Before anything else, I am well aware that not everyone watches an indoor Circus-cabaret dressed to the nines. Call it being overdressed and whatnot but the fact remains that it is always, always better to be well-dressed to show your respect to the people you're with than to be underdressed. If you are watching a play or an opera or attending an event launch of sorts, never come in a mini-lace dress short enough to show everyone your dignity, moreover, never couple it with unkempt frizzy hair–in a sense, the way you dress is a reflection of good manners and proper conduct.
It's not to say you have to always don designer garbs or wear the latest trends, but I think you always have to dress appropriately and you always have to make an effort to dress nice and clean.
This is why I love spending time with my boyfriend and his family because, no matter what the occasion, they are always impeccably dressed (on top of everyone being witty and tight, too).
While watching the performers' varied hilarious antics on stage, I couldn't help but think that the circus should be a microcosm of life–where people don't necessarily have to take every single detail too seriously and they live life projecting and imbibing happiness. The truth of the matter is, a lot of occurrences in life happen unexpectedly and you will get to deal with all sorts of individuals–both good and bad. Sometimes, you regret some decisions and actions, and sometimes, you realize, things are as they should be, and that things happen for a reason. The best way to deal with things being thrown at you, is to take it all in with a positive attitude.
Inject a little humor in your tribulations and never neglect to see the positive aspect in your hardships. It's not to say you devalue and downplay the hurdles, of course you have to accept the gravity of it first, but never wallow in self-pity. You owe yourself too much to resort to that.
Sometimes, I feel for those who are truly sad deep inside, those who experience regret, those who aren't even comfortable in their own psyche; these people are often insecure to the point that sometimes, they make it their purpose to drag people down to their own level of misery. Nonetheless, although people like the aforementioned exist (in different shades and colors, mind you), there are still other people out there who are extremely beautiful inside and out, ones who will off-set all the "cray" and "negative" in the world–so cheers to them!
At the end of the day, always stay classy (and don't forget to dress classy too). By being "classy", it's not to say you ignore and allow people to step on your dignity continuously. Of course, you should never, ever instigate but likewise, you should never allow people to challenge your self-worth. When I say turn the other cheek, turn the other cheek and push back to re-establish the boundaries, and always fight with reason. No one should be allowed to disrespect and demean you, most especially not for petty reasons.
Anyway, life is beautiful, it always will be. Take everything in strides and enjoy! Hardships will always be present and there's no way to control them however, you can always control yourself–how you act, how you approach things, and how you perceive life in general.
My life is beautiful, and the people in it are brilliant. For that particular sunday, here are photos of several cast members from the circus play that is conveniently called: My Life.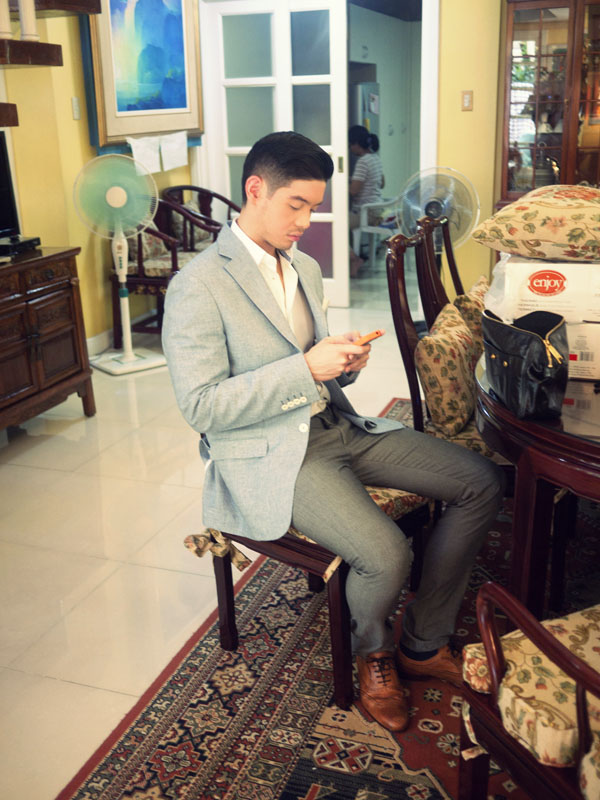 Here are some test shots featuring my dapper boyfriend–granted, I was never really a photographer so pardon me for the initial blurred shot. On the very same day, we were a few hours shy in celebrating and commiserating our (6)2nd month of being in a loving and healthy relationship.
After the show, we went over to the Pen Lobby for dinner, a pre-birthday celebration of sorts for my boyfriend's mom! Who, despite her age, will always remain youthful and beautiful in all aspects. It is her birthday today, by the way!
The walking disco ball, a.k.a, one of the most amazing individuals out there with a kewpie doll face to match: Joanna Ladrido, and her boyfriend Inigo. I love her, she's one of the most genuine and one of the nicest people out there. Like everyone in her family, she is brilliant and intelligent, and just plain wonderful.
In line with this, I would like to request everyone to pray for her as she will be undergoing a surgery this Monday.
Plus Katie, who visited from the US (she has her own blog too and she designs jewelries) and is equally as brilliant and amazing and wonderful as her sister and brother; someone who never fails to make me laugh and giggle because she's too witty for my life.
Finally, a rather unflattering photo of me holding the 12 pieces of special Red Velvet cupcakes from Sophie's Mom–one that's injected with extra cream cheese (my boyfriend's favorite). After the dinner at Pen, we decided to round up a few of our close friends to host a tight get-together to welcome our (6)2nd month of being together–apart from the cupcakes, we had a variety of donuts, pizza, and chicken. Apparently, we're a group who loves to eat!
Until next time!
Also! Don't forget to drop  by the Rockwell Urban Bazaar this weekend! See poster for details!!!